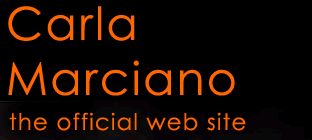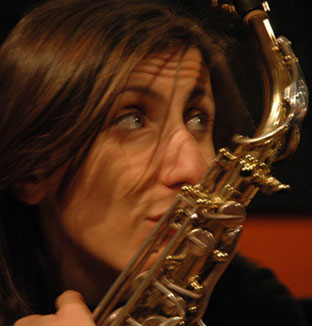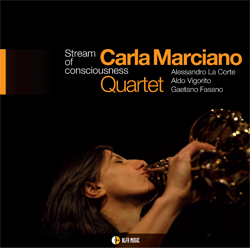 >>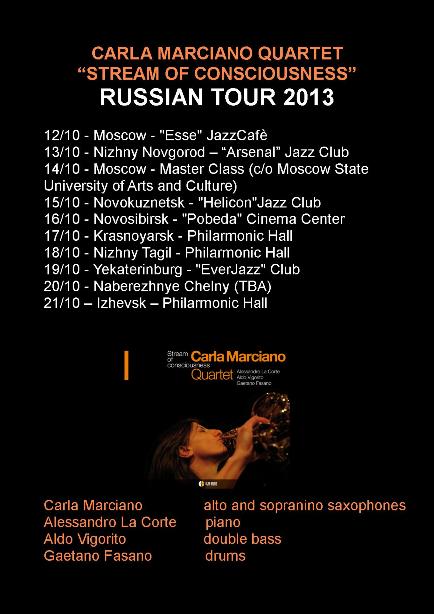 ---

"STREAM OF CONSCIOUSNESS" - THE NEW CD BY CARLA MARCIANO QUARTET RELEASED BY ALFA MUSIC AND DISTRIBUTED BY EGEA
WWW.EGEAMUSIC.COM

LISTEN TO THE CD CLIPS:

---



ACQUISTA O SCARICA I CD DI CARLA MARCIANO DEL CATALOGO BLACK SAINT
BUY OR DOWNLOAD CARLA MARCIANO's CDs BY BLACK SAINT LABEL :
WWW.CAMJAZZ.COM
---

SOME QUOTES...


ALL ABOUT JAZZ (USA)
"One of today's strongest female saxophonists...The force is in her sax-blood." Mark.F.Turner

JAZZ TIMES (USA)
"Marciano is a marvelous saxophonist and improviser, consistently demonstrating impressive control of her instruments and her material, most of which she composed herself..." David Franklin

JAZZ TIMES (USA)
"The volcanic passion of the sound. It is the most faithful way to refer to the Italian saxophonist Carla Marciano. If the profane is a act stripped of religious significance, the style of the interpreter is a fierceness that earthly is installed in the sacred. Carla Marciano invites you to retrieve the powerful world, pure and fresh, as the attentive viewer carnal before a performance. Its dramatic beauty seems to be arising from the force of a courtship baquico. Her alto sax emboldened, loquacious and irascible projected a poetics, philosophy a jazz. She is undoubtedly the own reincarnation of John Coltrane. Appreciate to Carla Marciano is being immersed in the other logical sense, in another area of musical enjoyment that exceeds our provincial field of pleasure. Away from the monotony of the jazz prevailing today, of the typical signs of the festivals of the world where the stylistic variety is saturated with uniformity, the singing of Carla has passionate vocation, autonomy of free distinction." Gustavo Bustamante Mesa

DOWNBEAT (USA)
"Now Italy has Carla Marciano, a powerful and passionate musician. She has developed a tick and broad tone on both instruments as well as a fluid articulation and is equally at ease in a serene ballad, a brazen uptempo piece or an open improvisational flight..." Alain Drouot

CADENCE MAGAZINE (USA)
"The undying stamina that she exhibits through several up-tempo pieces, with sheets of sound flowing in all directions, shows a propensity for excitement and awe-inspiring expression. She comunicates on a personal level, taking advantage of her beautiful tone quality to "sing" lyrically with genuine passion...
She takes her liberal breaks with a powerful force. Several selections push it to the limit, absorbing all the energy from the room and channeling it into an open space as would the eruption of a volcano. At other times, the mood shifts toward sensitive ballads..." Jim Santella

JAZZIZ (USA)
"Marciano and her quartet have recorded a provocative and thrilling album that honors the memory and spirit of Coltrane. She channel his spirit while maintaining her own voice...
She employs just the right amount of vibrato and a balances strong spiritualty with visceral earthiness. Her serpentine improvisations are often exploratory and sometimes quite contemplative...
Marciano excels as a composer. Her carefully constructed pieces allow for a stimulating variety of both individual and group spontaneity..." Hrayr Attarian

ALL ABOUT JAZZ (USA)
"A wonderful album. Plenty of fire and velocity, without ever becoming too hot to touch or too fast to keep up with. One of the more exciting albums of the year. Enjoy!" Dave Sumner

JAZZ MONTHLY (USA)
An incredible sax player…She has amazing "sax stamina" and incredible "saxability"…She is toast and the most of all Italy, one of the strongest sax player in the world and her music will truly ignite you!" Baldwin "Smitty" Smith

LOS ANGELES JAZZ SCENE (USA)
A very skilled altoist from Italy who plays with consistent intensity, really pushing herself and her musicians to play at their most passionate. The results are quite exciting. Scott Yanow

HARTFORD COURANT (USA)
"As soon as Marciano began playing, the air in the room became charged by the volcanic force of her music. Surprisingly, she produced these mighty sounds on the diminutive sopranino saxophone, an instrument rarely used in jazz…" Chuck Obuchowski

JAZZ MONTHLY (USA)
"Like a shot of espresso Carla Marciano Quartet serves up a punchy taste of the avant-garde, stirs it with the sounds of bebop, then simmers with longingly-romantic interludes.. An extraordinary album! Her maturity as an artist, both in composition and performance, will take your breath away on the tracks..." D.J. Fazio

ALL ABOUT JAZZ (USA)
-- John Coltrane's spiritual daughter -
"Carla's lyricism shines through every number like a lighthouse submerged under water of several streams, for thats what here sidekicks are each one of them rushing in a helpless gush to keep pace with her restless march towards lofty ends.
...As if Coltrane has been reincarnated into the shapely and attractive form of an Italian young lady, whose sax appears to be an extension of her body: not an artificial appendage, but a lively and expressive member.... Carla chose to enter our world too late, decades after John Coltrane passed away. What wonderfully explosive combination would have Carla and Coltrane made, if they had met each other! The mind shrinks at the enormity of such an imagined encounter. Power to you, Carla, may you reach and scale effortlessly the highest peaks in your musical career." Max Babi (India)

JAZZMAN (France)
"Italian jazz has gained an extremely talented saxophonist named Carla Marciano. Carla serves as a cultural exception in Italy, where there are few female jazz instrumentalists. The sax-woman adds an out-of-the-ordinary strength of interpretation to her inspiration and advanced technique in contrast with her apparent fragility..." Francisco Cruz

CADENCE MAGAZINE (USA)
"Marciano's choice of tunes evolve quickly into a trance-like, spiritual realm where her instrument becomes the immediate means of expression for her feeling…" Bill Donaldson

SLAGWERKKRANT (The Netherlands)
"I was just knocked out by someone that had Trane down so good and that was that young and that was young and that was Italian. And I was also knocked out by her command of the horn…" Hugo Pinksterboer

CARDIFF JAZZ SOCIETY (UK)
"Carla is a profligate improviser and has a considerable technical ability that gives her control of both music and instrument…Carla's technical skill and improvisational flair lend much excitement to her solo work...Carla's lyricism gleams through each tune and every track sounds like an established jazz classic, performed by musicians of repute at the peak of their form... A superbly exciting album… " Ken Cheetham

JAZZ REVIEW MAGAZINE (USA)
"Marciano sets a tone that is both graceful and original. The compositions experiment within lush layers of transcending vibes that floats within a sea of spiritual certainty…" Cheryl Hughey

BIRD IS THE WORM (USA)
"Channeling Coltrane's early-60s period, when he'd deconstruct songs like "My Favorite Things" and rebuild them into dazzling towers of ferocity and loveliness, Marciano attacks compositions with the same zeal, and offers up a very cool recording." Dave Sumner

JAZZ REVIEW (UK)
"Marciano has plenty of ideas..." Hugh Gregory

MUSICA JAZZ (I)
"La sua musica è in costante tensione tra omaggio dichiarato e slancio del tutto personale. Impressionante per magnificenza tecnica e intuizione espressiva: costruzioni articolate,volute mozzafiato, controllo perfetto di un materiale incandescente. La vicinanza a Coltrane si coglie nel senso del collettivo e non solo nella prova della sassofonista, peraltro eccezionale… Un disco di notevole maturità." Stefano Merighi

ALL ABOUT JAZZ (I)
"Il suono della Marciano ricopre spesso il ruolo di primaria importanza, con assoli prolungati che ne evidenziano sia la grande forza narrativa che un'energica voglia - a tratti furiosa - di mettersi in discussione in ogni passaggio, come se volesse spingere la musica sempre in avanti, rinnovandone di volta in volta confini e significati." Roberto Paviglianiti

JAZZ CONVENTION (I)
"La Marciano suona con un'energia senza pari, domina lo strumento e sa spingersi lontano grazie alle sue spiccate doti tecniche. Da entrambi gli strumenti riesce a tirare fuori un suono personalissimo, con un timbro ben preciso e carico di lirismo. Dà la sensazione di essere completamente a suo agio nonostante non sia facile improvvisare abbandonandosi pienamente al flusso di coscienza, schivando ostacoli e procedendo a volte, con una velocità che fa tremare i polsi... " Flavio Caprara

IRD (I)
"Ovunque Carla Marciano mette in mostra una voce strumentale che non può lasciare indifferenti: i suoi interventi solistici sono sempre incisivi, pensati e costruiti con precisi intendimenti espressivi. In Italia è lei la più autorevole personalità sassofonistica femminile." Roberto Valentino

JAZZ MAGAZINE (I)
"Con una battuta un po'rozza si potrebbe dire che suona come un uomo, ma la sassofonista salernitana non ha bisogno di mettersi a confronto con i colleghi su queso piano…
Marciano imbraccia il contralto, ma sembra un tenore, il registro è scuro e profondo...Un fraseggio che alterna intensi momenti poetici a incisivi interventi che coprono l'intero range dello strumento...
Quando poi imbocca il sopranino la timbrica è straordinaria." Giulio Cancelliere

JAZZ IT (I)
"La Marciano è sempre al limite delle possibilità dello strumento…La musica è potente, affascinante, profondamente meditativa e carica di tensione espressiva…"Chiara Giordano

SUONO (I)
"Una musicista fra le più interessanti dell'intero panorama jazz italiano ed europeo (e non parlo solo al femminile, naturalmente…), molto considerata anche negli Stati Uniti. E' impressionante ascoltare quanta energia il quartetto sia in grado di sprigionare con la sua musica. La formazione è un "treno" che non perde colpi nella sua corsa, gli strumenti sembrano compenetrati uno nell'altro, le composizioni di Carla Marciano sono cariche del più puro bop e di altrettanto blues e la sua bravura con entrambi gli strumenti è tanto naturale quanto impressionante. I suoi assoli sono allo stesso tempo irruenti e passionali..." Sergio Spada

JAZZ COLOURS (I)
"Carla Marciano si conferma compositrice ingegnosa e strumentista prodiga di improvvisazioni generose… Un disco che trasuda genuina passione." Enzo Boddi

MUSIC ZOOM (I)
"La Marciano al sax alto ed al sopranino, si lancia in delle escursioni che fanno emozionare chi l´ascolta, semplicemente grandiosa nel modo in cui riesce a fare rivivere certe sonorità ed a renderle credibili! La forza e l´energia della sassofonista salernitana suonano incredibili, difficilmente riscontrabili presso altre colleghe. Nel panorama del jazz italiano questo gruppo ha di sicuro un ruolo importante, ma anche a livello internazionale di sicuro non teme molti confronti sul genere." Vittorio Lo Conte

SOUND CONTEST (I)
"Con il contralto e con l'in genere poco frequentato sopranino l'artista salernitana si avventura in assoli, compone un sound, evoca atmosfere, disegna volute tematiche, che intercettano in modo impressionante l'essenza, il mood di John Coltrane… Sembra volerci riportare a quell'America immediatamente post-kennedyana da cui scaturi' un'espressione jazzistica senza precedenti... E' quel feeling, e' quel connubio inestricabile di arte e umanita', di individuale e di 'politico', che Carla Marciano riesce a far suoi, esibendo una maestria e una potenza volumetrica, tecnica, sonora, da cui e' impossibile non lasciarsi suggestionare…." Pietro Mazzone

DISCO CLUB (I)
"Chi crede che le "quote rosa" del jazz contemporaneo in Italia siano riservate al canto si ricreda subito: ci sono parecchi esempi che vanno in tutt'altre direzioni, e qualche certezza: Carla Marciano, ad esempio, che, in "Stream Of Consciousness" suona da signora assoluta sax contralto e sopranino, un aggeggio gradevole alla vista, ma micidiale nell'intonazione. Affiancata da un trio classico eccellente, Marciano sfodera una torrenziale capacità di fraseggio, il "flusso di coscienza" del titolo…" Guido Festinese

MUSICA JAZZ (I)
"Bisogna ancora una volta sottolineare la genuinità della sua ispirazione, l'audacia del sound e delle dinamiche, la forza del suo fraseggio che porta a progressioni frenetiche e coinvolgenti…" Libero Farnè

KATAWEB/MUSICA (I)
"…Ribadiamo lo straordinario talento di questa giovane sassofonista campana, che imbraccia con eguale perizia il sax alto e il sopranino. Fraseggio angolare caratterizzato da un eccezionale senso ritmico e sonorità spigolose se non taglienti sono le principali caratteristiche della Marciano...Evitando con cura l'autocompacimento virtuosistico quando è il momento di affrontare temi famosi o di cavalcare l'onda lunga del bop più ortodosso e glorioso..." Vittorio Pio

JAZZITALIA (I)
"Di certo c'è che questa giovane donna dalla straordinaria sensibilità, si appresta ad essere sempre più riconosciuta come un talento di caratura internazionale... Questo CD è solo una delle pagine più belle della storia del jazz italiano…" Massimiliano Cerreto

AUDIPHILE SOUND (I)
"...e non vi venga di prenderla per una delicata ed eterea presenza femminile nel mondo macho del jazz. Lei qui combatte ad armi pari." Daniele Cecchini

ANIMA JAZZ (I)
"Dalla prima volta che la sentii suonare dal vivo la ribattezzai Carla "Uragano" Marciano, per la sua incontenibile vena improvvisativa, straripante di potenza comunicativa.
Una quasi "spudorata" passionalità che ti colpisce diretta al cuore ed allo stomaco, con una forza espressiva ed una velocità di fraseggio che nemmeno Muhammad Alì dei tempi migliori sarebbe stato capace di "schivare"! L'irruenza del suo fraseggio è però sempre sostenuta naturalmente da un profondo "bisogno" interiore. Tecnica e cuore, fantasia ed originalità, forza evocatrice e pulsante vivacità comunicativa, "gestite" con grande professionalità e genio, sostenute ed esaltate da un'ensemble ottimo... Uno straordinario "Uragano" di energia musicale, che trova nel profondo di se stessa le più vibranti intuizioni musicali abbinate ad una incredibile potenza e capacità espressiva. Un corpo esile ma un'anima "che fà per due" e che riesce a trovare le vie più imprevedibili per arrivare ad esprimere musica di altissimo livello, sia tecnico che comunicativo.
Per me, in definitiva e senza ombra di dubbio, la più grande sassofonista di tutta la storia del Jazz italiano... Profondamente orgogliosi di una musicista capace di affrontare a testa alta i confronti più ardui a livello internazionale." Bruno Pollacci
---

>>
JAZZIT AWARD 2012 PER "STREAM OF CONSCIOUSNESS"
---

Some "STREAM OF CONSCIOUSNESS" reviews...

JAZZ TIMES (USA)
"STREAM OF CONSCIOUSNESS" review by Gustavo Adolfo Bustamante Mesa
---

DOWNBEAT (USA)
"STREAM OF CONSCIOUSNESS" review by Alain Drouot
---

JAZZIZ (USA)
"STREAM OF CONSCIOUSNESS" review by Hrayr Attarian
---

ALL ABOUT JAZZ (USA)
A TRACK FROM "STREAM OF CONSCIOUSNESS" FEATURED DOWNLOAD OF THE DAY
---

"STREAM OF CONSCIOUSNESS" recommended by JAZZ MONYHLY
JAZZ MONYHLY (USA)
---

LOS ANGELES JAZZ SCENE (USA)
"STREAM OF CONSCIOUSNESS" review by Scott Yanow
---

MUSICA JAZZ
Recensione "STREAM OF CONSCIOUSNESS" di Libero Farnè
---

JAZZ COLOURS
Recensione "STREAM OF CONSCIOUSNESS" di Enzo Boddi
---

JAZZ IT
Recensione "STREAM OF CONSCIOUSNESS" di Chiara Giordano
---

All ABOUT JAZZ
Recensione "STREAM OF CONSCIOUSNESS" di Roberto Paviglianiti
---

ALL ABOUT JAZZ
Intervista di Roberto Paviglianiti
---

DISCO CLUB
Recensione "STREAM OF CONSCIOUSNESS" di Guido Festinese
---

SOUND CONTEST
Recensione "STREAM OF CONSCIOUSNESS" di Pietro Mazzone
---

BIRDS IS THE WORM
"STREAM OF CONSCIOUSNESS" review by Dave Sumner
---

JAZZ CONVENTION
Intervista di Flavio Caprera
---

MUSIC ZOOM
Recensione "STREAM OF CONSCIOUSNESS" di Vittorio Lo Conte
---

FEDELTA' DEL SUONO
Recensione "STREAM OF CONSCIOUSNESS" di Francesco Peluso
---



SOME PAST REVIEWS and INTERVIEWS...


MUSICA JAZZ
Recensione di S.Merighi
---

SOTTOVOCE - Intervista di Gigi Marzullo
Guarda
---

CADENCE MAGAZINE (USA)
Review by J.Santella
---

ALL ABOUT JAZZ (USA)
Review by Mark F.Turner
---

JAZZ MONTHLY (USA)
Inteview by Baldwin "Smitty" Smith
---

JAZZ IT
Intervista e recensione di F.Ciulini
---

JAZZ TIMES (USA)
Review by David Franklin
---

SHONE TONE (Deutschland)
"CHANGE OF MOOD" on SHONE TONE
---

SOME PAST EVENTS...


JAZZMIN
La Sosta, Villa S.Giovanni (RC)

ITALIAN YOUNG JAZZ GRAFFITI
PICCOLO TEATRO STREHLER, Milano

ITALIAN WOMEN IN JAZZ
Symphony Space, Broadway, NEW YORK (USA)

VILLA CELIMONTANA JAZZ FESTIVAL, Roma

PIACENZA JAZZ FESTIVAL
Recensione concerto di M.Bardelli

FANO JAZZ BY THE SEA
JAZZMAN (France) - concert review by F.Cruz

FIREHOUSE 12 , New Haven, CT (USA)

Carla Marciano con FRANCO CERRI - ENRICO INTRA Doppio Trio
STAGIONE DELL'ATELIER MUSICALE, Milano


---