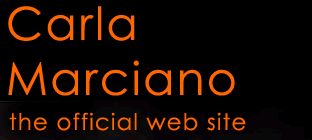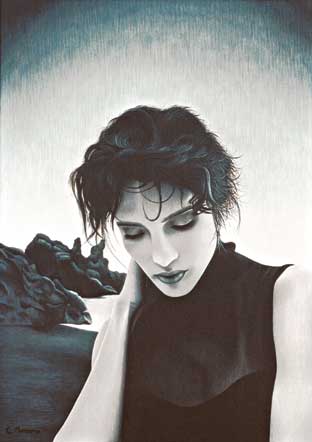 - Bianco e Nero -
Carla Marciano's painting ©1999
Acrilico su tela 50x70 cm.

BIO - ITALIANO




Altosassofonista e compositrice salernitana, considerata dalla critica specializzata tra i migliori talenti del jazz europeo, apprezzata sia per la grande passionalità ed energia, quanto per il fraseggio particolarmente articolato e l'inconsueta vena interpretativa e compositiva. E' inoltre annoverata tra i principali specialisti del sassofono sopranino, uno dei sassofoni più difficili da padroneggiare, strumento poco comune e poco utilizzato.
Con il suo quartetto, ha presentato i suoi progetti in prestigiosissimi festival e rassegne di jazz internazionali, oltre che nei principali jazz club e festival italiani ed ha all'attivo diversi tour in America e in Russia.

Carla Marciano si avvicina alla musica dapprima al pianoforte, poi al sassofono e si diploma in clarinetto classico presso il Conservatorio di Musica di Salerno.

"TRANE'S GROOVE" (con Alessandro La Corte al pianoforte, Aldo Vigorito e Dario Deidda al contrabbasso, e Donato Cimaglia alla batteria) è il titolo del suo primo lavoro discografico, pubblicato nel 2002 dalla DDQ (una delle tre storiche etichette della famiglia Bonandrini, insieme alla Black Saint e alla Soul Note).
Con questo CD, tra brani originali e qualche classico della musica afroamericana, Carla Marciano rende omaggio al grande John Coltrane, esplorando e rivisitando il suo linguaggio strumentale con particolare attenzione al periodo modale.

Il suo secondo CD, "A STRANGE DAY", viene prodotto nel 2005, sempre da Giovanni e Flavio Bonandrini, ma questa volta per la più celebre e leggendaria delle loro etichette, La BLACK SAINT (dal 1984 al 1989, la migliore etichetta di jazz nel mondo e Bonandrini miglior produttore discografico secondo il referendum della famosissima rivista statunitense DOWNBEAT) il cui catalogo, da sempre per l'appunto apprezzatissimo in America, vede la Marciano tra i pochissimi artisti italiani dell'elenco, in compagnia di mostri sacri del calibro di Max Roach, Archie Sheep, Steve Lacy, Charlie Haden, Cecil Taylor, Don Cherry, Lester Bowie, Art Farmer, Dewey Redman, giusto per citarne alcuni.
Avvalendosi della preziosa collaborazione dei conterranei Alessandro La Corte al pianoforte, Aldo Vigorito al contrabbasso e Gaetano Fasano alla batteria, Carla Marciano, con questo progetto, è volta a sviluppare un discorso personale, principalmente attraverso brani originali di sua composizione. Con un rigoroso disegno di base, il quartetto propone una musica passionale, istintiva, a volte impetuosa ed irruente e a tratti interrotta da atmosfere spirituali e momenti di meditazione. Si passa dai brani modali, in cui il fraseggio si spinge spesso fino ad estreme soluzioni armoniche, alle ballads, morbide ed ammalianti.

Il suo terzo CD "CHANGE OF MOOD" viene prodotto nel 2008 ancora una volta dalla BLACK SAINT, prima che i Bonandrini si ritirassero e i loro tre storici cataloghi fossero acquisiti dalla importante etichetta italiana CAM JAZZ. Con lo stesso quartetto ormai stabile da anni (formato da La Corte, Vigorito e Fasano), la Marciano ribadisce l'intenzione di portare avanti un discorso musicale coerente e con una chiara identità, che vive appunto sull'alternanza tra momenti dalla coinvolgente carica passionale ed emotiva ed altri più riflessivi. Il CD contiene esclusivamente brani originali, di sua composizione.

Il suo quarto CD "STREAM OF CONSCIOUSNESS" viene pubblicato da un' etichetta italiana molto stimata, la ALFA MUSIC. Un "live" in studio, ancora una volta in compagnia dello stesso quartetto, per una musica senza filtri, sempre più diretta ed emozionale, in cui la Marciano utilizza un linguaggio improvvisativo aperto ad ogni rischio per comunicare il proprio mondo interiore, le proprie emozioni, le proprie passioni o ansie più profonde. Il CD contiene esclusivamente brani originali di sua composizione, eccetto un'eleborazione, di La Corte, del traditional inglese "God rest ye merry, gentlemen".

Il suo nuovo lavoro discografico "PSYCHOSIS - Homage to Bernard Herrmann" è appena uscito il 6 settembre 2019 per la prestigiosissima etichetta olandese CHALLENGE RECORDS. ll progetto è appunto dedicato al grande compositore e direttore d'orchestra Bernard Herrmann, autore, tra l'altro, di numerose colonne sonore per il cinema, da Hitchcock a Scorsese. Alcune celeberrime pagine musicali tratte da film altrettanto famosi, come "Vertigo", "Marnie", "Psycho", "Taxi driver" (tutti thriller psicologici, da cui il titolo) vengono arrangiate, rielaborate ed adattate dalla Marciano per il suo quartetto stabile e presentate in una nuova veste, con l'aggiunta di spazi improvvisativi completamente originali. In coda al CD è presente una additional track, un famosissimo tema dalla saga di "Harry Potter" arrangiato e adattato da La Corte. Omaggio, questo, ad un altro grandissimo compositore: John Williams.

Carla Marciano ha destato l'attenzione delle più importanti riviste specializzate internazionali (DOWNBEAT, JAZZ TIMES ,JAZZIZ, CADENCE MAGAZINE , ALL ABOUT JAZZ , MUSICA JAZZ , JAZZMAN , LOS ANGELES JAZZ SCENE , JAZZ REVIEW , JAZZ RU, JAZZIT, solo per citarne alcune) ed i suoi CD hanno ricevuto recensioni estremamente positive. E' stata inoltre ospite di vari programmi televisivi e radiofonici nazionali ed internazionali.

Il suo CD " A STRANGE DAY" è stato incluso nella lista dei TOP TEN CDs del 2006 della prestigiosa rivista specializzata americana CADENCE MAGAZINE.

La Marciano è stata per diversi anni nella TOP TEN della categoria "Miglior Nuovo Talento" del TOP JAZZ, referendum della critica specializzata, indetto annualmente dalla rivista italiana MUSICA JAZZ ed è stata più volte menzionata tra i migliori sassofonisti italiani (sezione "Ance").
E' stata inoltre nominata tra i migliori sassofonisti italiani anche nel referendum dei lettori di un'altra rivista specializzata italiana: JAZZIT.

Il suo CD "STREAM OF CONSCIOUSNESS" ha ottenuto, nel gennaio 2013, una recensione a CINQUE STELLE sulla prestigiosa rivista specializzata russa JAZZ RU MAGAZINE.
Inoltre ha ricevuto il JAZZIT AWARD 2012 dalla già menzionata rivista specializzata JAZZIT.

Nel 2010 ha ricevuto il PREMIO INTERNAZIONALE PRINCIPESSA SICHELGAITA (riconoscimento destinato alle donne della provincia di Salerno distintesi in campo nazionale ed internazionale), con medaglia della PRESIDENZA del SENATO della REPUBBLICA ITALIANA per la sezione "Arte".

Nel 2013 è stata tra i vincitori della categoria "Miglior altosassofonista" (in compagnia di artisti del calibro di Phil Woods, Kenny Garrett, David Sanborn, Steve Coleman, Anthony Braxton) del 35° ANNUAL JAZZ STATION AWARDS, diretto dallo storico di jazz, produttore discografico e giornalista Arnaldo De Souteiro, membro del JJA (Jazz Journalists Association) e del LAJS (Los Angeles Jazz Society) nonchè membro votante del Naras-Grammy.

Le sono state dedicate pagine su alcuni libri che si occupano di jazz, tra cui: "The art of improvisation" (Kijàrat Kiadò) del critico musicale ungherese Gyorgy J.Matè, "Dizionario del Jazz Italiano" (Feltrinelli) del critico musicale Flavio Caprera, "Il giro del Jazz in 80 dischi" (CJC) del critico musicale Amedeo Furfaro, "Note di gonna" ebook del critico musicale Roberto Paviglianiti.

Nel 2012 e 2019 è stata invitata al PICCOLO TEATRO STREHLER di Milano, tra i solisti ospiti della Civica Jazz Band - Orchestra Senza Confini, diretta da Enrico Intra.

Nel 2012 è stata ospite fissa della Tullio De Piscopo Band.

Dal 2016 fa parte del quintetto di Alessandro La Corte, con il quale ha inciso il CD "SMILE IN WINTER", pubblicato nel 2017 dalla ALFA MUSIC.

Ha suonato, occasionalmente, con: Victor Bailey, Hiram Bullock, Bill Evans (sax), Franco Cerri, Enrico Intra, Paco Sery, Tullio De Piscopo, Ernst Reijseger, Gerald Cannon, Enzo Avitabile e tanti altri...



CITAZIONI DELLA STAMPA


CADENCE MAGAZINE (USA)
"She comunicates on a personal level, taking advantage of her beautiful tone quality to "sing" lyrically with genuine passion and a powerful force, absorbing all the energy from the room and channeling it into an open space as would the eruption of a volcano." Jim Santella

JAZZ TIMES (USA)
"Marciano is a marvelous saxophonist and improviser, consistently demonstrating impressive control of her instruments and her material most of which she composed herself." David Franklin

ALL ABOUT JAZZ (USA)
"One of today's strongest female saxophonists. The force is in her sax-blood." Mark F.Turner

DOWNBEAT (USA)
"Now Italy has Carla Marciano, a powerful and passionate musician with a tick and broad tone as well as a fluid articulation. She is equally at ease in a serene ballad, a brazen uptempo piece or an open improvisational flight." Alain Drouot

ITALIAN WOMEN IN JAZZ (USA)
"Carla is the most talented female alto sax player in all history of Italian Jazz". Enzo Capua

MUSICA JAZZ (Italia)
"La sua musica è impressionante per magnificenza tecnica e intuizione espressiva: costruzioni articolate,volute mozzafiato, controllo perfetto di un materiale incandescente... La prova della sassofonista è peraltro eccezionale. Un disco di notevole maturità." Stefano Merighi

IRD (Italia)
"Ovunque Carla Marciano mette in mostra una voce strumentale che non può lasciare indifferenti: i suoi interventi solistici sono sempre incisivi, pensati e costruiti con precisi intendimenti espressivi. In Italia è lei la più autorevole personalità sassofonistica femminile." Roberto Valentino

JAZZIT (Italia)
"La Marciano è sempre al limite delle possibilità dello strumento. La musica è potente, affascinante, profondamente meditativa e carica di tensione espressiva." Chiara Giordano

SUONO (Italia)
"Una musicista fra le più interessanti dell'intero panorama jazz italiano ed europeo (e non parlo solo al femminile, naturalmente…). La sua bravura con entrambi gli strumenti è tanto naturale quanto impressionante. La formazione è un "treno" che non perde colpi nella sua corsa" Sergio Spada

JAZZ CONVENTION (Italia)
"La Marciano suona con un'energia senza pari, domina lo strumento e sa spingersi lontano grazie alle sue spiccate doti tecniche. Da entrambi gli strumenti riesce a tirare fuori un suono personalissimo, con un timbro ben preciso e carico di lirismo e procede a volte, con una velocità che fa tremare i polsi." Flavio Caprera

JAZZ MONTHLY (USA)
"An incredible sax player. She has amazing "sax stamina" and incredible "saxability". She is toast and the most of all Italy, one of the strongest sax player in the world and her music will truly ignite you!" Baldwin "Smitty" Smith

MUSIC ZOOM (Italia)
"La forza e l´energia della sassofonista salernitana suonano incredibili, difficilmente riscontrabili presso altre colleghe. Nel panorama del jazz italiano questo gruppo ha di sicuro un ruolo importante, ma anche a livello internazionale di sicuro non teme molti confronti sul genere." Vittorio Lo Conte

JAZZ MAGAZINE (Italia)
"Con una battuta un po'rozza si potrebbe dire che suona come un uomo, ma la sassofonista salernitana non ha bisogno di mettersi a confronto con i colleghi su queso piano." Giulio Cancelliere

JAZZMAN (France)
"Italian jazz has gained an extremely talented saxophonist named Carla Marciano. She adds an out-of-the-ordinary strength of interpretation to her inspiration and advanced technique in contrast with her apparent fragility." Francisco Cruz

SOUND CONTEST (Italia)
"Carla Marciano esibisce una maestria e una potenza volumetrica, tecnica e sonora, da cui e' impossibile non lasciarsi suggestionare." Pietro Mazzone

LOS ANGELES JAZZ SCENE (USA)
"A very skilled altoist from Italy who plays with consistent intensity, really pushing herself and her musicians to play at their most passionate. The results are quite exciting." Scott Yanow

JAZZIZ (USA)
"Her passionate saxophone refreshes like a blast of chilled air. She balances strong spiritualty with visceral earthiness and her serpentine improvisations are often exploratory and sometimes quite contemplative. Marciano excels also as a composer." Hrayr Attarian

JAZZ TIMES (USA)
"The volcanic passion of the sound. It is the most faithful way to refer to the Italian saxophonist Carla Marciano. Away from the monotony of the jazz prevailing today where the stylistic variety is saturated with uniformity, the singing of Carla has passionate vocation, autonomy of free distinction." Gustavo Bustamante Mesa

SLAGWERKKRANT (The Netherlands)
"I was just knocked out by someone that had Trane down so good and that was Italian. And I was also knocked out by her command of the horn." Hugo Pinksterboer

ALL ABOUT JAZZ (USA)
"A wonderful album. One of the more exciting of the year. Enjoy!" Dave Sumner

CARDIFF JAZZ SOCIETY (UK)
"Carla is a profligate improviser and has a considerable technical ability that gives her control of both music and instrument Carla's lyricism gleams through each tune and every track sounds like an established jazz classic. A superbly exciting album." Ken Cheetham

LINER NOTES CD "STREAM OF CONSCIOUSNESS"
"La Marciano mette in luce una grande energia, un feeling che emerge con intensità dal suo torrenziale fraseggio. L'urgenza espressiva sfocia anche in cadenze estreme per la potenza sonora e la libertà espressiva che evidenziano" Maurizio Franco

DISCO CLUB (Italia)
"Carla Marciano" suona da signora assoluta del sax contralto e sopranino. Affiancata da un trio classico eccellente, Marciano sfodera una torrenziale capacità di fraseggio." Guido Festinese

JAZZ COLOURS (Italia)
"Carla Marciano si conferma compositrice ingegnosa e strumentista prodiga di improvvisazioni generose. Un disco che trasuda genuina passione." Enzo Boddi

KATAWEB / MUSICA (Italia)
"Ribadiamo lo straordinario talento di questa sassofonista campana, che imbraccia con eguale perizia il sax alto e il sopranino." Vittorio Pio

MUSICA JAZZ (Italia)
"Bisogna ancora una volta sottolineare la genuinità della sua ispirazione, l'audacia del sound e delle dinamiche, la forza del suo fraseggio che porta a progressioni frenetiche e coinvolgenti." Libero Farnè

ALL ABOUT JAZZ (Italia)
"I suoi assoli evidenziano sia la grande forza narrativa che un'energica voglia - a tratti furiosa - di mettersi in discussione in ogni passaggio, come se volesse spingere la musica sempre in avanti, rinnovandone di volta in volta confini e significati." Roberto Paviglianiti

IL GIRO DEL JAZZ IN 80 DISCHI (Italia)
"La Marciano è un tripudio di energia del sassofono. Lo possiede, lo controlla, lo maneggia con destrezza, ne estrae cascate di note, lo valorizza nelle sonorità più piene e ridondanti. Si è parlato di "saxability" e le si potrebbe ricamare addosso il termine "saxspirituality", per quelle timbricità tutte coltraniane che, ascoltate da una musicista, a dir poco sorprendono." Amedeo Furfaro

JAZZITALIA (Italia)
"Di certo c'è che questa giovane donna dalla straordinaria sensibilità, si appresta ad essere sempre più riconosciuta come un talento di caratura internazionale." Massimiliano Cerreto

AUDIOPHILE SOUND (Italia)
"E non vi venga di prenderla per una delicata ed eterea presenza femminile nel mondo macho del jazz. Lei qui combatte ad armi pari." Daniele Cecchini

ANIMA JAZZ (Italia)
"Uno straordinario "Uragano" di energia musicale, che trova nel profondo di se stessa le più vibranti intuizioni musicali abbinate ad una incredibile potenza e capacità espressiva. Per me, in definitiva e senza ombra di dubbio, la più grande sassofonista della storia del Jazz italiano." Bruno Pollacci

HARTFORD COURANT (USA)
"As soon as Marciano began playing, the air in the room became charged by the volcanic force of her music. Surprisingly, she produced these mighty sounds also on the diminutive sopranino saxophone, an instrument rarely used in jazz." Chuck Obuchowski

ALL ABOUT JAZZ (USA)
"Carla's lyricism shines through every number like a lighthouse submerged under water of several streams. Her sax appears to be an extension of her body: not an artificial appendage, but a lively and expressive member." Max Babi

CADENCE MAGAZINE (USA)
"Marciano's choice of tunes evolve quickly into a trance-like, spiritual realm where her instrument becomes the immediate means of expression for her feeling" Bill Donaldson

JAZZ MONTHLY (USA)
"Like a shot of espresso Carla Marciano Quartet serves up a punchy taste of the avant-garde, stirs it with the sounds of bebop, then simmers with longingly-romantic interludes.. An extraordinary album! Her maturity as an artist, both in composition and performance, will take your breath away on the tracks." D.J. Fazio

JAZZ REVIEW MAGAZINE (USA)
"Marciano sets a tone that is both graceful and original. The compositions experiment within lush layers of transcending vibes that floats within a sea of spiritual certainty." Cheryl Hughey




BIO - ENGLISH




Carla Marciano is an Italian saxophonist and composer from Salerno considered by specialized critics among the best talents of European jazz and one of today''s strongest female saxophonists. She is an alto saxophone specialist, appreciated for her great passion and energy, her strong expressiveness, her advanced tecnique as well as her distinctive performative and compositional streak. She is also one of the leading experts of the rarely used and hard to master sopranino saxophone.

She has performed her music projects, with her quartet, around the world at a lot of prestigious international jazz festivals, theaters and clubs as well as at most of the major Italian jazz festivals and clubs and she has under her belt some tours in America and in Russia.

She started studying music first playing the piano and then the alto saxophone and she graduated in clarinet from the Conservatory of Music in Salerno.

"TRANE'S GROOVE" (with Alessandro La Corte - piano, Aldo Vigorito and Dario Deidda - bass, Donato Cimaglia - drums) is the title of her first CD, released in 2003 by DDQ (one of the three Bonandrinis' famous labels together with Black Saint and Soul Note). Thanks to this project she paid homage to the great John Coltrane, with original compositions and some standards, exploring and re-examining his instrumental language with a particular attention to his modal period.

Her second CD "A STRANGE DAY" was released in 2005 by BLACK SAINT, the Giovanni and Flavio Bonandrini's prestigious as well as legendary label (the DOWNBEAT MAGAZINE critics poll's best label in the world, from 1984 to 1989), so much appreciated in USA. Few Italian musicians have recorded for this label and Carla Marciano is one of them, along with giants of the caliber of Max Roach, Archie Sheep, Steve Lacy, Charlie Haden, Cecil Taylor, Don Cherry, Lester Bowie, Art Farmer, Dewey Redman, just to name a few.
With this project and the precious collaboration of Alessandro La Corte on piano, Aldo Vigorito on bass and Gaetano Fasano on drums, she develops a personal discourse, mainly through her original compositions. With a precise sketch at the bottom, the quartet proposes a passionate and instinctive music, sometimes impetuous and vehement and sometimes interrupted by spiritual atmospheres and moments of meditation and reflection. You can pass from the modal pieces, which are the right ground to express a liberty of phrasing that often pushes on to extreme harmonic solutions, to the soft and seductive ballads.

"CHANGE OF MOOD" is the title of her third CD, released in 2008 once again by BLACK SAINT, before the Bonandrinis retired and their three labels were acquired by the important Italian label CAM JAZZ. This CD contains solely her original compositions and she leads the same quartet (comprising of La Corte, Vigorito and Fasano). The project confirms her aim to carry on with a coherent musical discourse having its own clear identity, shifting from involving passionate moments to more reflective ones.

Her fourth CD "STREAM OF CONSCIOUSNESS" was released by ALFA MUSIC, an esteemed Italian label and she is once again the leader of her usual quartet. The CD contains solely her original compositions, except for an elaboration of the English traditional "God rest ye merry, gentlemen" by La Corte and was recorded live in the studio, with the musicians all playing in a single space, so as to create an emotional and filter-free music, which is as direct and uncompromising as possible.

Her new album "PSYCHOSIS - Homage to Bernard Herrmann" has been just released on September 6th 2019 by the prestigious Dutch label CHALLENGE RECORDS. A homage to one of the greatest geniuses of film score, the composer and conductor Bernard Herrmann. Marciano arranges, revises and adapts for her stable jazz quartet some of the Herrmann's best known themes from outstanding soundtracks he wrote for equally outstanding films - all psychological thrillers (hence the title Psychosis) - by brilliant directors, including "Marnie", "Psycho" and "Vertigo" by Alfred Hitchcock, "Taxi Driver" by Martin Scorsese and "Twisted Nerve" by Roy Boulting. Originally conceived for orchestras, the tracks in this album are arranged in respect of the original melodies while at the same time creating new improvisational spaces that allow the quartet to maintain its own identity. The album contains also an additional track dedicated to another great genius of film score, John Williams, who wrote the soundtrack for the famous movie saga "Harry Potter", whose main theme is arranged by Alessandro La Corte.

Carla Marciano has attracted attention from the most important international jazz magazines (DOWNBEAT, JAZZ TIMES ,JAZZIZ, CADENCE MAGAZINE , ALL ABOUT JAZZ , MUSICA JAZZ , JAZZMAN , LOS ANGELES JAZZ SCENE , JAZZ REVIEW , JAZZ RU, JAZZIT, just to name a few) and her CDs have received extremely positive reviews. Moreover she was a guest at numerous national and international radio and TV programmes.

Her CD "A STRANGE DAY" was included in the prestigious American CADENCE MAGAZINE's TOP TEN CDs' list for 2006.

In 2013, her CD "STREAM OF CONSCIOUSNESS" gained a FIVE STARS review on the important Russian magazine JAZZ RU. Moreover it was awarded with the JAZZIT AWARD 2012 by the renowned Italian jazz magazine JAZZIT.

For some years Carla Marciano has been included in the TOP TEN list of the "Best Italian Talent" category of the TOP JAZZ, the critics' poll organized by the Italian magazine MUSICA JAZZ. Moreover, she was often mentioned among the best Italian saxophonists ("Reeds" category).
For some years she has been mentioned among the best Italian saxophonists also in the readers poll of the Italian jazz magazine JAZZIT.

On June 2010 she was awarded with the PREMIO INTERNAZIONALE PRINCIPESSA SICHELGAITA and the medal by the PRESIDENCY of the SENATE of the ITALIAN REPUBLIC in the "Art" section.

In 2013 Marciano was among the winners of the "Best Alto Saxophonist" category (along with great musicians of the caliber of Phil Woods, Kenny Garrett, David Sanborn, Steve Coleman, Anthony Braxton) of the 35th ANNUAL JAZZ STATION AWARDS, conducted by the jazz historian, record producer and jazz educator & journalist Arnaldo DeSouteiro, member of JJA (Jazz Journalists Association), LAJS (Los Angeles Jazz Society) and voting member of Naras-Grammy.

In 2012 and 2019 she played at the PICCOLO TEATRO STREHLER in Milano, as special guest of the Civica Jazz Band directed by Enrico Intra.

From 2016 she is part of the quintet of Alessandro La Corte, with whom he recorded the CD "SMILE IN WINTER", published in 2017 by ALFA MUSIC.

She occasionally played with:
Victor Bailey, Hiram Bullock, Bill Evans (sax), Franco Cerri, Enrico Intra, Paco Sery, Tullio De Piscopo, Ernst Reijseger, Gerald Cannon, Enzo Avitabile and many others...



PRESS QUOTES


CADENCE MAGAZINE (USA)
"She comunicates on a personal level, taking advantage of her beautiful tone quality to "sing" lyrically with genuine passion and a powerful force, absorbing all the energy from the room and channeling it into an open space as would the eruption of a volcano." Jim Santella

JAZZ TIMES (USA)
"Marciano is a marvelous saxophonist and improviser, consistently demonstrating impressive control of her instruments and her material most of which she composed herself." David Franklin

ALL ABOUT JAZZ (USA)
"One of today's strongest female saxophonists. The force is in her sax-blood." Mark F.Turner

DOWNBEAT (USA)
"Now Italy has Carla Marciano, a powerful and passionate musician with a tick and broad tone as well as a fluid articulation. She is equally at ease in a serene ballad, a brazen uptempo piece or an open improvisational flight." Alain Drouot

JAZZIZ (USA)
"Her passionate saxophone refreshes like a blast of chilled air. She balances strong spiritualty with visceral earthiness and her serpentine improvisations are often exploratory and sometimes quite contemplative. Marciano excels also as a composer." Hrayr Attarian

JAZZ TIMES (USA)
"The volcanic passion of the sound. It is the most faithful way to refer to the Italian saxophonist Carla Marciano. Away from the monotony of the jazz prevailing today where the stylistic variety is saturated with uniformity, the singing of Carla has passionate vocation, autonomy of free distinction." Gustavo Bustamante Mesa

JAZZ MONTHLY (USA)
"An incredible sax player. She has amazing "sax stamina" and incredible "saxability". She is toast and the most of all Italy, one of the strongest sax player in the world and her music will truly ignite you!" Baldwin "Smitty" Smith

JAZZMAN (France)
"Italian jazz has gained an extremely talented saxophonist named Carla Marciano. She adds an out-of-the-ordinary strength of interpretation to her inspiration and advanced technique in contrast with her apparent fragility." Francisco Cruz

ITALIAN WOMEN IN JAZZ FESTIVAL (New York City, USA)
"Carla is the most talented female alto sax player in all history of Italian Jazz". Enzo Capua

LOS ANGELES JAZZ SCENE (USA)
"A very skilled altoist from Italy who plays with consistent intensity, really pushing herself and her musicians to play at their most passionate. The results are quite exciting." Scott Yanow

SLAGWERKKRANT (The Netherlands)
"I was just knocked out by someone that had Trane down so good and that was Italian. And I was also knocked out by her command of the horn." Hugo Pinksterboer

ALL ABOUT JAZZ (USA)
"A wonderful album. One of the more exciting of the year. Enjoy!" Dave Sumner

HARTFORD COURANT (USA)
"As soon as Marciano began playing, the air in the room became charged by the volcanic force of her music. Surprisingly, she produced these mighty sounds also on the diminutive sopranino saxophone, an instrument rarely used in jazz." Chuck Obuchowski

ALL ABOUT JAZZ (USA)
"Carla's lyricism shines through every number like a lighthouse submerged under water of several streams. Her sax appears to be an extension of her body: not an artificial appendage, but a lively and expressive member." Max Babi

CARDIFF JAZZ SOCIETY (UK)
"Carla is a profligate improviser and has a considerable technical ability that gives her control of both music and instrument Carla's lyricism gleams through each tune and every track sounds like an established jazz classic. A superbly exciting album." Ken Cheetham

CADENCE MAGAZINE (USA)
"Marciano's choice of tunes evolve quickly into a trance-like, spiritual realm where her instrument becomes the immediate means of expression for her feeling" Bill Donaldson

JAZZ MONTHLY (USA)
"Like a shot of espresso Carla Marciano Quartet serves up a punchy taste of the avant-garde, stirs it with the sounds of bebop, then simmers with longingly-romantic interludes.. An extraordinary album! Her maturity as an artist, both in composition and performance, will take your breath away on the tracks." D.J. Fazio

JAZZ REVIEW MAGAZINE (USA)
"Marciano sets a tone that is both graceful and original. The compositions experiment within lush layers of transcending vibes that floats within a sea of spiritual certainty." Cheryl Hughey

MUSICA JAZZ (Italy)
"Her music is impressive for both its technical magnificence and its expressive intuition: articulated constructions: breathtaking volutes, the perfect control of an incandescent material... The saxophonist's rehearsal is exceptional. This is a remarkably mature disc." Stefano Merighi

IRD (Italy)
"Everywhere Carla Marciano displays an instrumental voice that cannot leave you indifferent: her soloist performances are always incisive, well-conceived and constructed by means of precise expressive meanings. In Italy, she is the most pre-eminent female saxophonist on the scene." Roberto Valentino

JAZZIT (Italy)
"Marciano always pushes the instrument to its limits... The music is powerful, fascinating, deeply meditative and laden with expressive tension." Chiara Giordano

SUONO (Italy)
"She is one of the most interesting musicians on the entire Italian and European jazz scene (and, naturally, I am not only speaking of female artists… )Her talent with both instruments is just as natural as it is incredible. The quartet formation is like a "train" that doesn't miss a beat along its route." Sergio Spada

JAZZ MAGAZINE (Italy)
"Roughly joking, one could say that she plays like a man, yet the saxophonist from Salerno doesn't need to measure herself against her colleagues in this way." Giulio Cancelliere

JAZZ CONVENTION (Italy)
"Marciano plays with unparalleled energy, dominates the instrument and knows how to venture further afield thanks to her outstanding technical skills. From both instruments, she manages to bring out a very personal sound, with a very precise, lyrical timbre, and she sometimes performs at a wrist-shaking speed" Flavio Caprera

MUSIC ZOOM (Italy)
"The strength and the energy coming from this saxophonist from Salerno sound incredible, skills which cannot be easily found in any of her colleagues. On the Italian jazz scenario, this group definitely plays a significant role, but also at an international level, they are certainly one of a kind." Vittorio Lo Conte

DISCO CLUB (Italy)
"Carla Marciano performs as the leading lady contralto and sopranino saxophonist Accompanied by an excellent classic trio of musicians, Marciano unleashes a torrential geniality of the art of melodic phrasing." Guido Festinese

SOUND CONTEST (Italy)
"Carla Marciano manages to make her own, by performing with mastery and a volumetric, technical, resonant power that is impossible not to let oneself be influenced by." Pietro Mazzone

JAZZ COLOURS (Italy)
"Carla Marciano confirms her unique technical ability as an ingenious composer and instrumentalistwho is extravagant in performing lengthy improvisations... This is a CD oozing with genuine passion." Enzo Boddi

KATAWEB / MUSICA (Italy)
"We reaffirm the extraordinary talent of this saxophonist from the Campanian region of Italy , who embraces either the alto saxophone or the sopranino with equal skill." Vittorio Pio

MUSICA JAZZ (Italy)
"Once again, it is necessary to underline the authenticity of her inspiration, the audacity of the sound and dynamics as well as the strength of her melodic phrasing which leads to frenetic and captivating progressions." Libero Farnè

ALL ABOUT JAZZ (Italy)
"Her solo performances highlight both the great narrative strength together with a forceful – at times even furious desire – to put her musical expertise at stake during each passage, as if she would like to continuously thrust her music further and further forward, time after time creating new limits and meanings." Roberto Paviglianiti

JAZZITALIA (Italy)
" It is certain that this fine, extraordinarily sensitive young woman is getting ready to become increasingly recognised as an internationally famous artist." Massimiliano Cerreto

AUDIOPHILE SOUND (Italy)
"Don't even think about taking her for a delicate, ethereal female presence in the macho world of jazz. Here, she fights a fair fight." Daniele Cecchini

ANIMA JAZZ (Italy)
"An extraordinary "Hurricane" of musical energy that she finds deep down, the most vibrant musical intuitions combined with an incredible strength and expressive skills. For me, surely and without any doubt at all, she is the greatest female saxophonist of all times in the history of Italian jazz." Bruno Pollacci