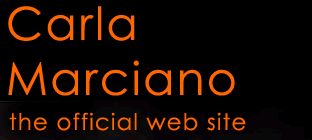 MUSIC ZOOM
Recensione/Review "STREAM OF CONSCIOUSNESS"
ITALIANO - Leggi


ENGLISH

Following the musical adventure that began on DDQ and which then continued on Black Saint, Carla Marciano continues to provide us with her music, directly and without frills, yet this time for the Roman record label Alfa Music.
Once more, we have the trio consisting of her husband, Alessandro La Corte on the piano, Aldo Vigorito on the double bass and Gaetano Fasano on the drums, who accompany Ms. Marciano forming a group that has, by now, become a solid unity, perfectly tuned, right down to the finest details and which draws its inspiration from the music of John Coltrane's historical quartet. There's nothing strange about that, if one considers that just about everything has been said about jazz and that, now, all we can do is to look at the tradition that it has left behind, that embraces a period of time ranging from Dixieland through to bop right up to free jazz.
Carla Marciano, playing both the alto and the sopranino saxophones, launches herself into ranges of notes that enchant all those who listen to her, the way in which she manages to bring certain sounds back to life and to make them credible is simply astonishing! The first piece, called Stream of Consciousness during which, on the sopranino saxophone, she lets herself go and blasts out all there is in her unconscious, drawing inspiration from some of John Coltrane's extremely long solo performances on the soprano sax while performing his most loved My Favourite Things. The strength and the energy coming from this saxophonist from Salerno sound incredible, skills which cannot be easily found in any of her colleagues.
To follow, there is a well-structured suite in three parts and 'Inside', a quieter piece where, towards the end, the trio accompanying Ms. Marciano stop playing, leaving her alone in an intense moment so as to carry out a solo performance and to bring the piece to a conclusion. The final piece, entitled 'Handshake', performed on the sopranino saxophone is a beautiful theme that follows her impetuous improvisation.
On the Italian jazz scenario, this group definitely plays a significant role, but also at an international level, they are certainly one of a kind.
Beyond the music, they have clear purposes, transmitted by means of the notes they play and which today can be rarely found. There are too many musicians proposing a tidy kind of jazz that abides by the rules of common good taste and that is emotionally bland: instead, this group belongs to the minority that when compared to this previous group, is poles apart.
Autore: Vittorio Lo Conte