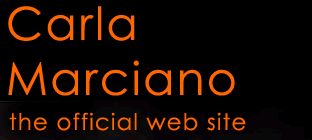 JAZZ REVIEW (USA)
-"Trane's Groove" review
Saxist Carla Marciano evokes the spirit of John Coltrane in Trane's Groove. Playing within the quartet setting, Marciano sets a tone that is both graceful and original. The compositions experiment within lush layers of transcending vibes that floats within a sea of spiritual certainty. Marciano rotates between bass players in Coltrane tradition, thus creating movement and balance. Each arrangement makes a definitive statement that ushers the collection forward and beyond the current acceptable levels of jazz. Songs are a tapestry of changing hues and textures. Where "As Usual" is pleasingly palatable, "India's Mood" evokes flavors of change and risk. "Stars Fell on Alabama" is a melodic journey by a concisely focused group of musicians. Throughout the CD, each member shines. No one musician stands out or overpowers. Each song is a harmonious effort to hone the groove, while finding the voice that lingers within.

> www.jazzreview.com <



ITALIANO

La sassofonista Carla Marciano rievoca lo spirito di John Coltrane in Trane's Groove.Suonando con il suo quartetto, la Marciano costruisce una sonorità bella e originale. Un esperimento di scrittura di brani all'interno di ricchi strati formati da vibrazioni trascendentali, esperimento che fluttua in un mare di certezze spirituali. La Marciano si alterna in tondo fra i bassisti secondo la tradizione di Coltrane, creando così movimento ed equilibrio. Ogni arrangiamento è una affermazione precisa che porta la raccolta di brani avanti ed oltre i livelli attuali del jazz. I brani sono un arazzo di colori e tessiture mutevoli. Mentre "As Usual" è piacevolmente gustabile, "India's Mood" evoca aromi di cambiamento e rischio. "Stars Fell on Alabama" è un viaggio melodico di un gruppo di musicisti concisi e attenti. In tutto il CD ciascun componente del gruppo brilla. Nessun musicista è oscurato o prende il sopravvento sugli altri. Ogni brano è uno sforzo armonioso per affilare il groove, mentre si procede alla ricerca della voce indugiante.
Autore: Cheryl Hughey