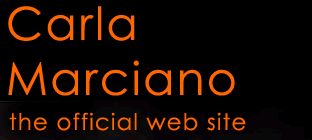 SUONO
-"Trane's Groove" review -
Uscito nel 2003 per Black Saint, che dischi inutili non ne produce quasi mai, il lavoro della sassofonista salernitana si è accompagnato ad esperienze live che hanno rinforzato (e confermato) ulteriormente una qualità e uno stile che indubbiamente lasciano prevedere buone cose per lei. Con alle spalle un solido passato musicale, in un contesto geografico e culturale vulcanico come quello campano ,questa musicista ha coltivato dentro di sé un grande amore per John Coltrane. E con la musica, lo stile e l'anima di Coltrane ha voluto misurarsi in questo lavoro, accompagnata ed assistita da fior di musicisti. Molto intensa e profonda nelle sue linee musicali, che spingono laddove anche il grande John cercava sempre di arrivare (oltre i limiti), Carla Marciano non sembra affatto superficiale sul sentiero tracciato da Trane's Groove; anzi riesce a rileggere le differenti fasi della storia del suo grande modello con grande versatilità. E soprattutto senza rifarsi pedissequamente a composizioni di Trane (non ce ne sono), ma componendo a sua volta per ritrovare oggi quella fondamentale lezione.Incide insomma proprio un bel disco, intenso, "caldo" e sincero, grazie anche al fondamentale apporto di Dario Deidda, Aldo Vigorito, Donato Cimaglia e soprattutto del bravo pianista Alessandro LaCorte





ENGLISH

Produced in 2003 by Black Saint, that has hardly ever issued useless records, this work by the saxophonist from Salerno was accompanied by some live experience that once again reinforced (and confirmed) a quality and style undoubtedly foreseeing good things for her. Having a solid past as a musician in the volcanic geographic and cultural context of Campania region, this musician cultivated her great love for John Coltrane. So in this work she wanted to measure up with Coltrane's music, style and soul, accompanied and supported by the cream of musicians. Carla Marciano is very intense and deep in her music that carries the listener as far as the great John had always tried to get to (beyond the edge), and she never seems to be superficial along the path drawn by Trane's Groove; on the contrary she manages to read once again the different phases of the life of his great model in a pretty versatile way. And most of all, she doesn't refer slavishly to Trane's tunes (there aren't any), but she writes her music in order to discover once again his fundamental lesson. So she made a really good, intense, "warm" and sincere record, thanks also to the fundamental contribute from Dario Deidda, Aldo Vigorito, Donato Cimaglia and, most of all, from the talented pianist Alessandro LaCorte.
Autore: Sergio Spada