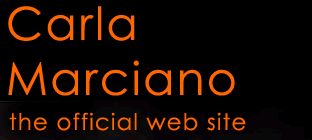 EUROCLUB DE JAZZ(France)
"Trane's Groove"review
This is superb debut recording by Carla Marciano. Marciano is an Italian from near Naples and is a very accomplished alto and soprano saxophone player. This CD is obviously a homage to John Coltrane but do not let that necessarily put you off. It is not a rehash of Coltrane tunes or some kind of pastiche. It is a varied CD with some strong original material that stands on its own. The CD's opening track is Trane's Groove which is obviously a dedication to Coltrane penned by Marciano and you immediately think it is Coltrane playing around the Love Supreme period which is a measure of what a fine player Marciano is. Although it is a dedication it sounds fresh and is a strong tune and performance featuring sustained playing by Marciano. The next track is another Marciano composition and features Dario Deidda on trumpet. This is a mid paced melodic tune and is more in the 1950s Davis/Coltrane mode. Prisoner of Love features a virtuoso introduction by Marciano which is avant garde in style and moves into a melodic ballad which is beautifully played by Marciano. Easy To Love is a Cole Porter composition which features a three minute bass introduction by Deidda, it has a Coltrane feel and is an up tempo number. Hamlet is a Deidda composition and is a reference to the town where Coltrane was born, again it is Cotranish in style but is strong enough to stand on its own merits. Stars Fell On Alabama is a straightly played ballad with Marciano playing with a full tone with a bass solo by Aldo Vigorito this time. India'a Mood is quite different to anything else on the CD, it features sitar like sounds, a funk beat, an interesting bass line and Marciano creating Indian style sounds on soprano. The CD finishes with Bye Bye Trane which is in Coltrane territory again with Marciano demonstrating her command of technique. This is a very enjoyable and interesting CD which can be played many times without becoming familiar or boring. I look forward to Marciano's second CD.
Autore: Martin Beaver (England)