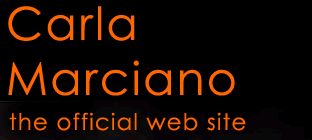 MEDICINE HAT NEWS (USA)
-"Trane's Groove" review
Although every saxophone player who has played jazz for the past 30 years cannot help but be influenced by John Coltrane, few have made any attempt to actually enter into what he did to such an extent that they play with his sound and his nuances and even quote from his solos. Enter a young Italian woman who not only has absorbed Trane's sound and style but has the audacity to record a CD in his homage, and manages to pull it off. And while she at times sounds so much like Coltrane it could be him, she also manages to do this in an unpretentious way that carries her own mark of brilliance as well. This is an amazing CD with a truly stellar band that includes Aldo Vigorito and Dario Deidda on bass, Alessandro La Corte on piano, and Donato Cimaglia on drums. Not only does Carla teach music as well as perform, she is also an artist, and two of her stunningly detailed paintings are included in the CD's booklet. She writes three of the eight tunes on this CD, and includes a couple standards, Easy to Love and Stars Fell on Alabama. She plays soprano and alto and this former child prodigy absolutely explodes with technique and the sheets of sound that Coltrane introduced. You will have to do some digging to find this one, but it will be well worth your search.
Autore: Lyle Rebbeck